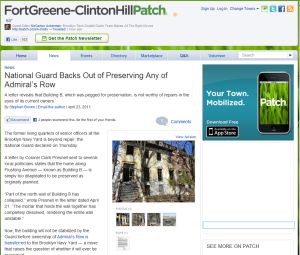 Fort Green / Clinton Hill Patch reports in an April 23 2011 story – National Guard Backs Out of Preserving Any of Admiral's Row that, predictably, the National Guard – owners of the Admirals Row heritage site – having blocked immediate preservation efforts – are now claiming that the buildings are beyond repair.
Patch notes that the City and Brooklyn Navy Yard are powerless to intervene until title transfer, meanwhile the city's development plan is undermined by a corruption scandal involving the developer.
Patch quotes Navy Yard spokesman Shane Kavanagh, who urges that the National Guard transfer title immediately, and provide $2 million to "stabilize" the buildings already designated for preservation.